Messages

363
Good Post Points

144
Location
New toys!
I wanted a HF Titanium 125 Flux welder, for its portability. My larger HF MIG-180 is too heavy to carry around. (Yeah I'm that old). Then I discovered HF was taking orders on the Titanium for delivery next June. Forget that!
So I went to Amazon looking at comparables. One is 18 lbs and dual-voltage. Run it on 240 volts to get the the 130 amp output that is claimed for the 120 volt flux welders. (But only
IF
you have a 30 amp/120v wall socket, nobody does).
For $149, reliability is unproven so I also bought the separate three year warranty for $22 so I'll get use out of it (or its replacement) through 2024.
After trying it out, I like it. This is what Harbor Freight should be selling in the cheap under-$200 category. This isn't pro gear, just decent quality for the DIY market. Or in my case, minor farm repairs, - with three more welders here if this one isn't suitable for a project.
Here's a link to it. And a copy of the review I drafted for Amazon.
Amico MIG-130A, 130 Amp Flux Cored Wire Welder, 110/230V Dual Voltage.
First impression after a few minutes trial:
Seems to be excellent quality. Simply the best welder in this class and price category! I added the extended warranty so I expect several years service. It still cost less than others similar.
The dual voltage 120/240 v, is a worthwhile advantage over similar small welders that are 120 volt only. Nobody commonly has a 30 amp 120 volt outlet on the wall. While all the 120 volt welders specify 30 amp input to attain their claimed output of 100 to 130 amps welding current.
Pro:
* This 120/240 volt welder can also run from a dryer or welder 240 volt outlet, and actually provide the 130 amps of welding current that a 120 volt welder can't. That's a major advantage.
* Its cord has a 240 volt plug, then you add the 120/240 adapter to plug it into a common 120 volt outlet. This is day/night better that some dual voltage welders that have the opposite adapter where 240 volts is provided at what should be a 120 v receptacle - which is sure to smoke a grinder etc mistakenly plugged into that bogus adapter. Amico got it right.
*The ground cable has a real welder clamp, much better than the cheap 'battery charger' clamp provided on cheap welders.
* It's light! And very well designed for carrying around. The top handle has 'ears' to wrap the power cord around. The ground cable is detachable, and easier to carry that way. Only 18 lbs. Simple to take it along from one place to another.
* It welds great. I ran several test beads. First on 1/8 plate. With both knobs at 2/3 of max, it sounded great but that was too hot, one bead burned through. Then I moved to 3/8 steel plate. Penetration and bead quality looked great.
* Everything works as it should. A pleasure to use. Hard to describe but everything feels right.
Con:
There are a few oddities, none significant.
*I had to research quite a bit before I found this is a solid and ongoing company based in Southern California. Their big warehouse there has their logo on it. Amico needs to distinguish themselves from some of the welders listed on Amazon where those sellers seem to have brought in a single batch of items from Alibaba for resale. Amico should improve their public-facing image to improve customer confidence.
* The manual recommends .030 flux core wire and says .035 stresses the welder without improving bead quality. There was a .040 tip in the welder and two .035 spares included. Supply chain issues?
* No mention anywhere in the manual describing the LCD display. Turning the left knob up to show a little over 130 on the LCD seemed too hot for my trial welds.
* Left dial is labelled Current and the right dial, Voltage. The right dial is definitely wire speed and the left one increases intensity of the welding as it is turned up. Unfamiliar, but easy to get used to.
* Starting new wire, be sure to feed it past the mini-Dinse connector and well into the liner using the Wire Feed button, past the shoulder a couple of inches in, where the liner starts.
* The sample flux core wire that comes with it welds well, but its the most smoky wire I've used. I could hardly see the puddle. Verify the welder works as intended then put in some good flux core wire.
Overall - Recommended! I'm going to enjoy using this.
Stock photo
My photo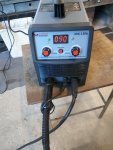 Sample beads on 3/8 material. As I noted in the review above, the sample wire is so smoky I couldn't see much. The rusted, straight beads below were done months ago with the MIG-180 and INE flux core wire where I could see what I was doing.